"Parachute" — Q&A with Director Kath Tolentino — Sir Patrick Stewart Reads A Sonnet
OH! So that's the October surprise.
Loyal readers, thank you. Please share this week's post with your friends and family.
If this is your first time, I hope you enjoy Highly Transmissible, a free weekly newsletter about the best films and TV streaming right now and the state of the world we live in.
In director Kath Tolentino's latest short, Parachute, the story plays out in the in-between moments. The film follows the intertwined lives of two Chinese teenagers attending high school in the United States, far from their families and their homes. One takes control of the situation while the other feels abandoned. They are simultaneously companions and enemies. Much of the communication between them, their host family and their friends occurs in what is unsaid, more than in what is said. Tolentino is emerging as an incredibly talented director with a willingness to take on difficult stories with style and meticulous attention to detail and characterization. I caught up with Tolentino to talk about Parachute shortly after it was selected for the Palm Springs International Short Festival, and it has continued to do well on the festival circuit. This conversation has been lightly edited for length and clarity.
BR: Has it been weird doing the festivals online instead of in person?
KT: Oh my god. I truly do miss it. There have been a number of festivals like New Filmmakers LA and Palm Springs, which were both amazing and built out a great online panel program and networking meetings, which was so helpful. They've done their best at making online offerings worthwhile. But nothing beats being in a room with people who are watching your film so that you can hear how it resonates with them. And in the live Q&As, more people are giving you feedback and you can see what they engage with.
Turning to the film itself, I'd love to know a little bit about what inspired you.
It is hard to talk about without spoiling the ending, but there is violence in the movie, and it's inspired by a true story of intense violence in a community of parachute kids, or Chinese immigrant teens, living in Los Angeles. The reason I wanted to make this film is because I had read about this incident of violence in this community, and I felt that I could empathize with the people who committed this act of violence, and I wanted to chart out what can bring someone to that breaking point.
It's such a specific story about such a specific community.
That's what is interesting about it to me. The true story this was inspired by took place in LA. We chose to shoot it in Silicon Valley where there are schools that exist that are solely marketing to ignorant folks from other countries who don't know how the American school system runs. And so they save and save and save tons of money to send their kids to these schools when in reality they're kind of scam schools. It feels like there's this whole shadow society of people who have gotten duped into coming here and are now stuck in these systems and truly have a hard time understanding how to get out of it or what the broader context is and what possibilities they could have here. They don't know how to access those.
Were there challenges that came along with this story?
I was interested in localizing it to the Bay Area, so there were things I felt like I could easily draw from. But, first of all, I don't speak Chinese, and I'm not from China. So those are things that I struggled with. I tried to bring in folks from China and lots of Mandarin speakers through the whole creative process. And I researched the parachute kid community as heavily as possible to try and create an authentic experience. We also brought on someone as a sort of story consultant who had tutored parachute kids, and she gave some thoughts on the script and was like, 'yeah, this seems basically accurate.' Of course, it's not all depressing. I've met a number of people who were parachute kids. And they've said, 'yeah, my experience was a lot more positive than that. But I can still identify with that feeling of isolation and being so far from home and how difficult that was.'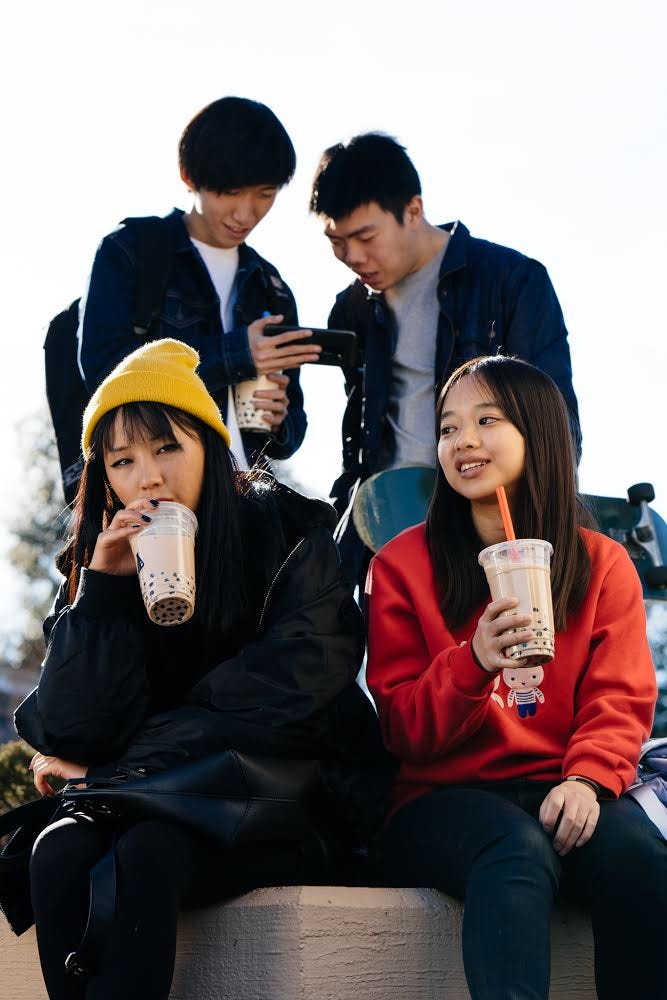 The characters feel very real.
I find Wendy, the main character, to be very relatable; anybody in that situation—where they've left their parents at 14 years old and have all this academic pressure to succeed in a very specific way, and they don't speak the language very well and don't have many support systems—would be struggling. All of those pressures create a lot of turmoil. So I don't know…I guess I felt like I drew on some personal experiences in terms of Wendy, and the main actress and I talked about this a lot. Wendy feels invisible a lot of the time. Her parents don't see her. Her host family doesn't see her. She is constantly feeling like no one is there for her. The main character and I both kind of had heart to hearts, and opened up about how in our own family situations we sometimes felt that way. She was a latchkey kid herself. Her parents ran a restaurant for like 15 hours a day. So she would always be home by herself, feeding herself, and, you know, just was alone a lot.
Right.
Those psychological elements of the script were easy for me and for her to draw on. Not to say that my parents were like, bad parents, but… you know. And then there was also the tension between her and her roommate.
That's a huge source of tension in the film, and a lot of the dialogue is not in English. As a director, how did you approach those scenes?
Our casting director was fluent in Mandarin, so she was with us in every single audition. She read the lines in Mandarin and in English with them so that we could see how they played. She also gave her thoughts on how the Mandarin sounded and the performances in Mandarin. But in terms of actually doing takes and shaping the performance a bit, I think you can gain a lot of knowledge from observing body language and facial language. We also had a script supervisor with us who was fluent in Mandarin, and so after every take, he and I would check-in. How did that sound? Good? Okay, let's move on.
Did you script it in Mandarin? Or leave it up to the actors to translate from English as they saw fit? Or was there an interstitial step when the script was translated?
I scripted it in English. Our script supervisor translated it all into Mandarin, and there were a couple of English-isms, and he found Chinese-ism for them. And our casting director looked it over as well and made a couple of changes. And then with the actors, [the script supervisor] would chat with them about why he chose this particular translation. So they were interactively involved in shaping the Mandarin.
It was a super collaborative process. Also—a fun fact—there's some Shanghainese in this movie as well. Mei-Lin is from Shanghai and from a much more upper-class background. So there are a couple of moments in the script where she speaks to her parents in Shanghainese. If you speak Chinese, you would know that when you understand her in those moments it's a barrier between her and Wendy.
Any final thoughts you'd like to share?
I'm worried this might come off as, like, a fluffy answer, but it's truly how I feel: I think the purpose of any good film or book or piece of media is to help you empathize with a point of view that you don't identify with necessarily. I hope that people will see this story of someone who is struggling on a really personal level, and when they get to the ending understand why she acts the way that she does. The reason this is important to me is because I think we're living in a time where we're very quick to create enemies out of other people and to label us and them. We forget that we have a lot more in common than we think. And people who act out of violence are doing so because they have had some trouble or some personal hardship or are feeling threatened, often, for real reasons. This film is small and it's rooted in a very specific context, but I hope that this will go a little way in helping people step out of themselves.
---
Parachute is available to stream online via Cinequest through Oct. 14.
The film is an official selection at a range of film festivals, including Cinequest, Palm Springs International Shortfest, Hamptons International Film Festival, Los Angeles Asian Pacific Film Festival, San Francisco IndieShorts, Hawaii International Film Festival, and New Filmmakers LA, among many others.
Katherine Tolentino is a mixed-race Filmmaker & Producer from the San Francisco Bay Area with a lifelong goal of bringing underrepresented voices to the mainstream. She is founder and EP at BorderWoman Pictures, a film production company dedicated to amplifying the voices of underrepresented groups, particularly women of color. She also co-founded Bay Made, a quarterly screening series that showcases new films by emerging Bay Area filmmakers. She holds an MFA in Cinema Arts from Brooklyn College and was named an AISF Women in Screen Workshop Fellow in 2019. She is currently developing her first feature film, One Summer on Fire.
---
A sonnet:
One of the few, small joys of the global pandemic has been getting to experience Sir Patrick Stewart reading the sonnets of Shakespeare. He completed the final poem earlier this week and added a few lines from Ovid. Enjoy.
---
Reading List:
---
Benjamin Reeves is an award-winning screenwriter, journalist and media consultant based in Brooklyn, New York. Follow him on Twitter 

@bpreeves

, write to him at 

breeves.writer@gmail.com

, or visit

benjaminreeves.com

to learn more.